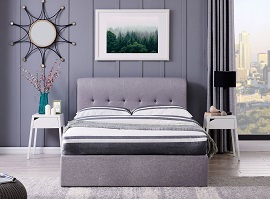 Carmel Collection
Overview
The Carmel collection is a lovely luxurious range! It's sumptuous grey fabric with
button detail makes this very modern. With the added benefit of an ottoman base
you can be sure this is a winner!
Product Highlights
Ottoman Base

Button Detail

Sumptuous Fabric
Product Dimensions
Double 4'6" Bed Frame - £399
Height: 101.5cm

Length: 210.5cm
King 5ft Bed Frame - £425
Height: 115cm

Length: 218cm
* Please note the product dimensions are approximate only, call one of our team for exact measurments.
* Please note the price is for the bed frame only.